Some of What We're About
JOB'S DAUGHTERS teaches the time-tested principles of respect for parents and home, loyalty to flag and country, and reverence for God.
In Job's Daughters a young woman has the opportunity to:
Build her self-confidence

Develop Leadership Abilities

Make new and lasting Friendships

Enjoy fun activities

Be of service to Others
All it takes is a relative with proper Masonic relationship to start you on a new, fun-filled, and meaningful experience.
(Form 306 Revised 6-97)
Want to know more information or interested in joining? Fill out the form below and submit.
History of Our Order
Job's Daughters was founded in 1920 by a woman named Ethel T. Wead Mick in Nebraska. Mrs. Mick was an active member in the Order of Eastern Star at the time.
Mrs. Mick wanted to create an organization that built strong moral character in young women. With the help of leaders from Master Masons and Eastern Star, she came up with the idea of building an organization for young women between the ages of 10 and 20 - integrating many of the lessons she learned in Eastern Star.
Job's Daughters has developed into a youth organization that has thousands of members in five countries: United States, Canada, Australia, Brazil, and the Philipenes. International, state, and local Job's Daughters bodies help support various charities and local projects. Job's Daughters also has its own official charity, The Hearing Impaired Kids Endowment (H.I.K.E) Fund. Members of Job's Daughters have many opportunities to participate in fun activities, meet other young women from diverse backgrounds and countries, and make many friends that last a lifetime.
It's important to note that while Job's Daughters is religious in nature, it's not a religion or a substitute for religion. Members are encouraged to practice their own faith and be active in their own church.
Masonic Relationship
Job's Daughters are the relatives of Master Masons and from them receive their heritage.
To be a member of Job's Daughters you must be between the ages of 10 and 20 and be a direct descendant of a Master Mason, adopted daughter by law, step-daughter, step-granddaughter, sister, half-sister, step-sister, sister-in-law, niece, grandniece, first or second cousin of a Master Mason, or be so related to his wife or widow...or be the daughter, step-daughter, granddaughter or step-granddaughter, of a Majority Member.
The chances of being related to one of the above listed is actually rather good. The Guardian Council commonly hunts up family members with a relationship you weren't even aware of.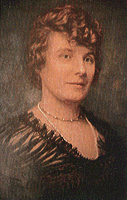 Mrs. Ethel T. Wead Mick is our Founder